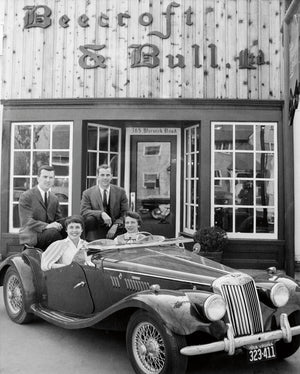 A luxury experience from the start
Inspired by the "Ivy League" style made famous in the Northeast, Moss & Frances Beecroft added their own flair and inherent good taste, opening beecroft & bull in Moss's hometown of Newport News, VA in 1958.
Today, we continue to offer carefully curated clothing and uncommon customer service that they insisted upon from the very beginning. The business has expanded to include international collections, custom clothing excellence, and most recently, an optional online shopping experience for added convenience.
Moss & Frances would be proud to know that beecroft & bull is still recognized as one of the nation's best, having been a constant fixture on Esquire Magazine's "Best Stores in the US" list since its creation.  
Our Story
TALLAHASSEE, FL (the dawn of Beecroft & Bull) 
Moss Beecroft was convinced by "friend" Norman Delancy to open "Beecroft Norman, Ltd" on the campus of Florida State University. After Norman was caught with his hand in the cookie jar, "Norman" was quickly removed from the sign and it became "Beecroft Ltd."  
It was at FSU that Moss met lovely student and future wife, Frances Carey, so in essence, Norman did Moss a huge favor, setting the course for their future together.  
NEWPORT NEWS, VA  
After the move north to Virginia from Tallahassee, Moss & Frances opened "Beecroft & Bull Ltd" in 1958 with Moss's Newport News High School chum Maurice "Bunky" Bull. Bunky wasn't  as passionate about the clothing business (which wasn't making enough money for two families) so he fled to join his family business in Atlanta. Moss & Frances were able to purchase a free standing building not far from the original "bowling alley" sized shop on Warwick Blvd. There they expanded their operation, and success soon followed.  
The shop in Hilton Village remained the flag ship store until the recession of 2008 forced its closure. We still maintain a presence in Newport News, as our home office and warehouse are located there, and we have custom clothing events nearly every season at the James River Country Club. Moss was practically born at JRCC, where he is immortalized with a shrine in his honor. 
WILLIAMSBURG, VA  
When they began their trek down Route 64, and opened a shop in Merchant's Square in the late '60's, the "Beecroft & Bull" brand was officially born. That location remained in operation until1996 as Busch Gardens and outlet malls began taking over the town. Store manager and staff relocated to Charlottesville to help the family seize a fresh opportunity there.  
VIRGINIA BEACH
This time we were lured east down Route 64 by a good client from Virginia Beach who was developing a strip center near the Oceanfront. Our success in the city was immediate, and it remains our strongest market to date. For 38 great years Pacific Place remained our home, expanding and renovating three times until the sudden retirement by a friend and competitor opened the doors in Hilltop North.  
If we had to hand pick a location in Virginia Beach again, we would look no further than the corner space that we now occupy. Hilltop is the Retail Mecca of our region of Virginia Beach, and the number of new friends we have made since opening on Sept 1, 2018 is staggering. The Virginia Beach shop is lead by Chris Grant, whom Craig Beecroft discovered at the Princess Anne Country Club 15 years ago…a great discovery indeed!    
NORFOLK, VA
Norfolk became our first "downtown" location in 1983, and because of its relatively close proximity to Virginia Beach & Newport News, we came to dominate the luxury Men's business in Hampton Roads. We were forced to terminate this location after 22 years by the City of Norfolk, as they were our landlord and tore our building down to eventually make room for The Main project on Main St.  
We have many fond memories from our years in Norfolk, and this is when the partnership of Bryan & Craig Beecroft began to take shape. Bryan led the Norfolk market as Craig took the helm in Virginia Beach. 
CHARLOTTESVILLE 
We are breaking sequence here, as opening in Charlottesville, the home of the University of Virginia, followed Richmond and was our final stop on Rt 64. Craig Beecroft met his future wife, Noël Young, at UVA, and it still is a town they both love and request often. Moss Beecroft, at one time one of the top ranked amateur senior golfers in the nation, had great success at the Kenridge Golf Invitational at the Farmington Country Club, having won the event in 1968. 
The market in Charlottesville was wide open, and since we were in "expansion mode", it was only natural that we take the plunge. We fell prey to the pandemic in 2021, but not before enjoying 25 wonderful years, the highlight being outfitting UVA basketball coach Tony Bennett for his historic & triumphant march in the 2019 NCAA Basketball Tournament!
RICHMOND
Prior to Charlottesville, Richmond was the boldest move in our history thus far. As our business grew and our reputation expanded across the Commonwealth, it was time to take on the capital city.
In 1986 we opened in the historic Shockoe Slip area of downtown Richmond and remained there until 2003. The location was moved to River Road II in the West End, not far from the University of Richmond and the Country Club of Virginia. Richmond remains one of our strongest markets and has yet to reach its potential. 
In the late spring of 2022, we are joining the Libbie-Grove retail community five minutes down the road. It marks our return to a "neighborhood" experience that we haven't enjoyed since our days in Newport News. For most of our 36 years in Richmond, our shop has been managed by Tom Tatum, a consummate professional who's passion and expertise will lead us into our next chapter. 
TODAY… 
With shops in the strongest markets of Virginia Beach & Richmond, Beecroft & Bull is in a very good place. Sadly, Moss, Frances & Bryan Beecroft are now gone, and Craig is the last remaining "Beecroft". Our team, however, which includes long time Business Manager Sandy Miller, and General Manager Zack Wittkamp, is as strong as ever and is poised to do even greater things.